Resistance Bands Set 17 In 1 | Home Gym | Pull Rope Fitness Exercises | Training, Yoga, Gym, Fitness Equipment
17 pcs Pull Rope Fitness Exercises | Resistance Bands Set | Training, Yoga, Gym Fitness Equipment
Features:
1. This multi-functional elastic rope is your best choice. It has the same training methods as dumbbells and is very portable, either in place or fixed to the door. It's powerful enough to stimulate your muscles.
2.There are five different sizes of tension rope, which will produce a total of 100 pounds of tension. You can also adjust it according to your requirements. Different colors of tension rope will have different pounds, including 30 pounds for black, 25 pounds for blue, 20 pounds for green, 15 pounds for red, and 10 pounds for yellow
3. High strength metal hook, safe and stable, good load-bearing capacity, high quality foam handle, anti-skid, sweat absorption, easy to clean
4. This product is equipped with foot ring, door buckle, handle and storage bag, which can carry out various exercise postures and achieve different exercise results
5. Use stretch rope to train your muscles, so that the muscles are always in a state of tension and exertion, weight loss, fitness, fitness, the best choice
Specifications:
Name: tension rope
Material: TPE
Size: length of drawstring is about 1.2 m
Weight: 500 g
Packing list: 2 * ring foot 2 * handle 1 * door anchor 1 * receive bag 5 * tension rope
"...Super easy to use and saw progress within days of using these."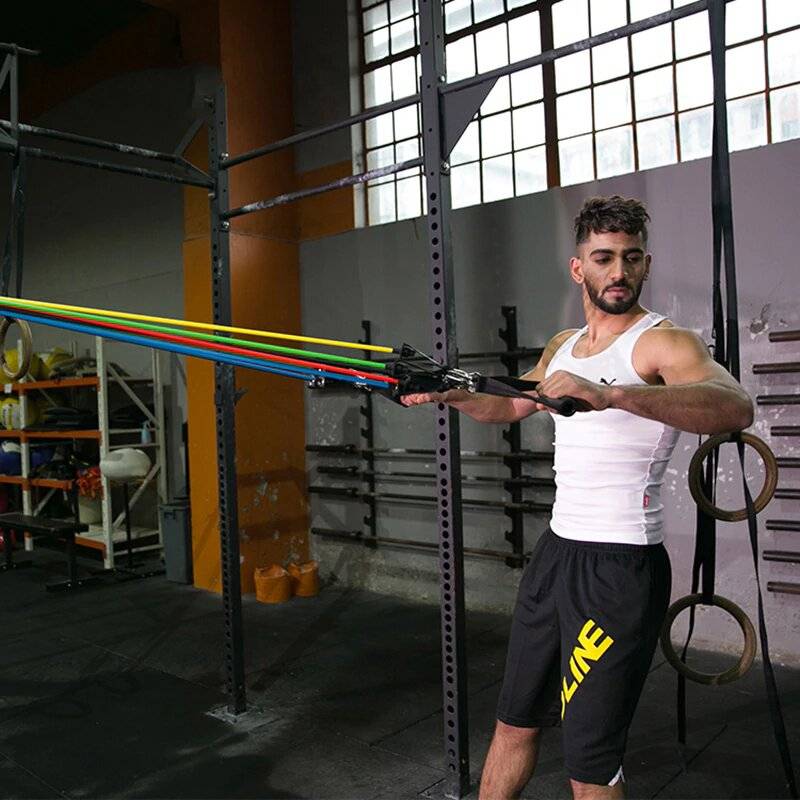 These award winning resistance bands provide a great way for individuals to workout. Whether your at the gym and want to use this to aid in your exercise or your at home and are looking for new way to workout and stay in shape, these resistance bands are a great choice! You can do a variety of different exercises whether you are using them for sports, fitness, or physical therapy. The different color bands also have a different strength of resistance associated with them so you can choose which one fits you best.